During the months of March and April 2019 I spent my time in San Marcos La Laguna, Guatemala. At that time I was working on my online course and also working with clients doing webdesign and social media marketing.
In this entry I'm going to share some of the experiences I had working from here for two months. The Ups and downs. Hope you enjoy 🙂
Internet:
This is probably the most important thing for a digital nomad. My personal experience is that the Internet here can get a bit frustrating.

I started with a local SIM with 2.5GB of data for 100Q (13$). I also had ok- connection at the apartment and worked from cafes. This is what I found:

The SIM data ran out within a few days and it was ok but not amazing for work. The connection at the house was ok maybe for Facebook but definitely not for work. I was working a lot from a cafe named Circles Cafe and a bit from Camino Cafe. They both have an ok connection but working all day from cafes can get frustrating for me.

I ended up paying for a better connection at my apartment It wasn't cheap but made it so that i could work from how witch is a huge deal for me. That cost a total of 1000Q (130$) divided into 700 for the installation + 300Q a month for the usage of 2MB speed connection. The 2MB was sufficient for three digital nomads to work from home.

Still, somedays there is just no electricity and sometimes it's hard to do long distance calls. Especially if I'm uploading a big file and my friend wants to do a call. But overall this way we could work and get things done.
Accommodation:
We had a great 2 bedroom apt. in Pasajcap just by San Marcos (10 min walk). The place cost the three of us 925$ a month and that included all utilities and cleaning twice a week. The condition of the place was superb. It was really secure (we didn't even ever lock the front door since the main gate was locked).

The place had an amazing balcony overlooking the lake and three volcanos.

You can find this place contact details here:
http://www.pasajcap.com/english/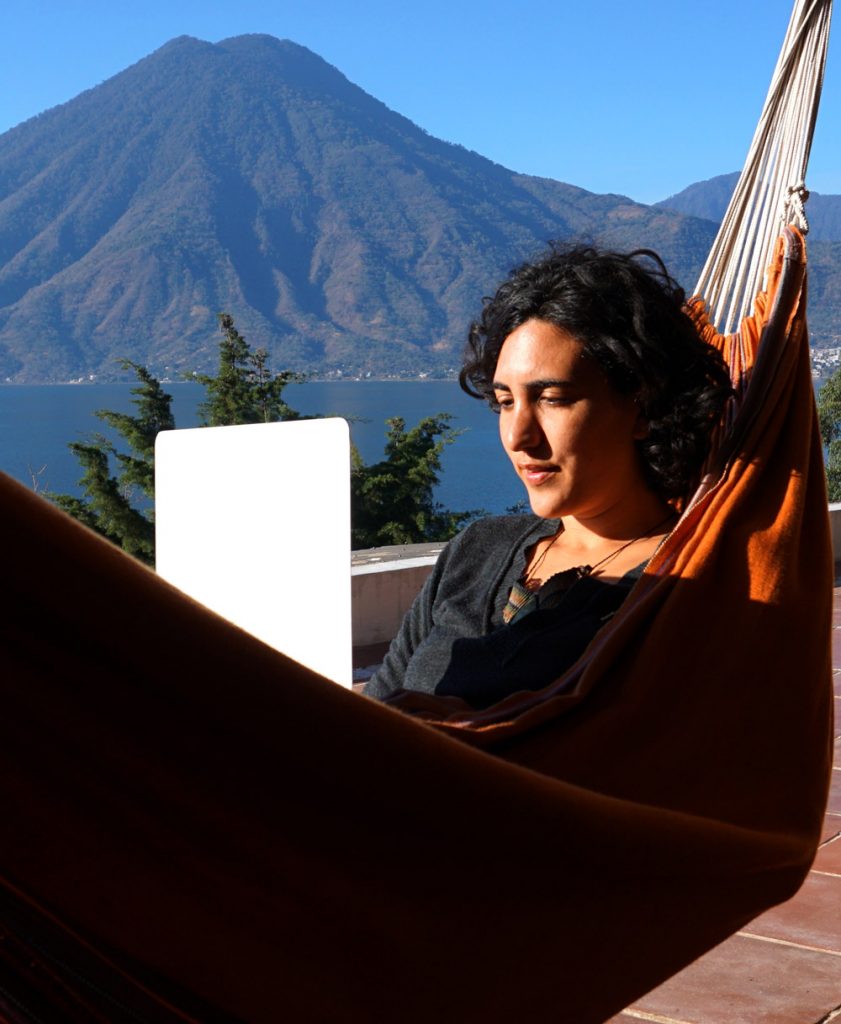 Food:
The kitchen in our apt. was really great for cooking and we ate most of our meals at home. The groceries are cheap and high quality (just make sure to wash them well)

The street food in Guatemala should be avoided. I learned it the hard way. getting sick a few times from the food until I decided not to eat it anymore.

The food in most restaurants in San Marcos is really clean and very well made. There are a lot of vegan and vegetarian options in San Marcos if you are into that.
Activities:

There is a good amount of workshops, Yoga classes, Ecstatic dances and more going on. You can probably find what you love around here.

Personally, I enjoyed the ecstatic dances and tantric events here.
Other activities can include tours around where you can find ancient Mayan ruins, Trekking up the volcanos or mountains, Going to nearby towns, Visiting co-operatives and more.
Community:

During the time I spent in San Marcos I found it very easy to meet new people every day and spending entire days and nights with them. I had an amazing time creating real connections with few amazing individuals.

I would say it easy to meet great people and get into the community here. Most people are here for a few months or less so expect a lot of turn around in your time here. This is not a permanent community but rather a temp one.
Nature:

The nature around Lake Atitlan is truly amazing. You will be surrounded by an amazing lake and three volcanos. The lake itself is not very inviting for a swim, however.
Conclusion:
If you are looking for great nature and very chill vibes with vegetarian food, Yoga and more, San Marcos could be a great fit for you.

However, if you rely fully on the internet for 8 hours a day then maybe you should go to a more urban location like perhaps Antigua, Guatemala (my next destination)